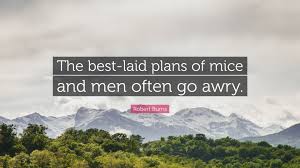 Isn't that the truth? I supposed I should have known.
You see, I had planned the writing and editing and feedback period of my novel to a tee. I was rigorous. I was diligent. I was persistent. My schedule was as follows:
Finish writing rough draft by August 1, 2017.
Complete first round of edits starting September 1 – finish by October 1, 2017.
October 1, 2017 – Disseminate to readers for feedback.
November 1, 2017 – Receive all feedback and complete next round of edits.
Have all edits complete and send query letters to agents by December 31.
I was quite good at keeping to my schedule. The trouble started on November 1 when I began editing based on feedback. I didn't realize how arduous a task it was.
Editing takes a really long time. I mean really long. Tediously long. And the more I read, the more I wanted to change. And, more importantly, the more I realized how green my story really was. It was a hard pill to swallow when I realized I wasn't going to come close to my December 31st deadline (after I'd told just about everyone who would listen what my plan was).
Okay, Kristine, where are you now?
Seven weeks into 2018 and I'm still editing! I've made my third round of editing and am wading into my fourth, and hopefully last round. Some people will say that you're never done editing. Some people say don't do more than three rounds. There is no convention, no guideline, no standard.
This exercise had taught me two valuable lessons, though: patience (I'm forever trying to learn patience), and to trust my novel. It sounds silly, but I believe when my novel is ready it will tell me (within reason. I'm not going to wait endlessly for a telegram). And if I try to rush it, the universe will course correct me, as it has done a few times already.
The moral for me is just do it, every day. I'll get there when I get there. And when I get there, it will be beautiful.