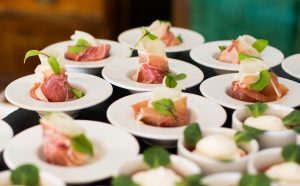 I don't even know where to begin with this one.
Casey Leidecker is a very successful caterer, who has earned a reputation for excellence in his work that results in a lavish lifestyle. But his work is very specific, and certainly not for everyone.
That's all I can say about the plot without ruining it for Mr. Baird's readers. This is most certainly a horror story, bordering on "torture porn". The Sable Lane Catering Company is definitely not for the faint of heart. It set itself firmly on the edge of what I can tolerate as a reader, and I'm absolutely reeling from this Halloween-perfect story.
The Sable Lane Catering Company is the first story in Mr. Baird's short story collection And a Dark Horse Dreamt of Nightmares, a collection of horror, sci-fi, and and supernatural stories. With a name like that it's no wonder the first story is horror, and Mr. Baird delivers on all fronts. I wish I had selected a story from one of the other genres, because I'm totally creeped out! The theme of the one I read, though, is a simple one, and certainly one that has been done before (I even have a short story with a similar theme), but Mr. Baird truly leans in to the macabre and makes each scene visceral and disgusting. I'm not ashamed to say that there was one part that I had to skip over because it was simply too much for me. My face is tried from grimacing so much.
If you like this sort of story, filled with vivid imagery and the worst humanity has to offer, then The Sable Lane Catering Company is for you. The story is very well edited, with only a couple very minor typos noted. The style is clear and enveloping, and even though I did not want to, I couldn't stop reading it. Check out Keith Anthony Baird's The Sable Lane Catering Company, found in his collection A Dark Horse Dreamt of Nightmares, right here.
Official Kristine's BRF Rating:

Photo courtesy of Katarzyna Pracuch via Unsplash.