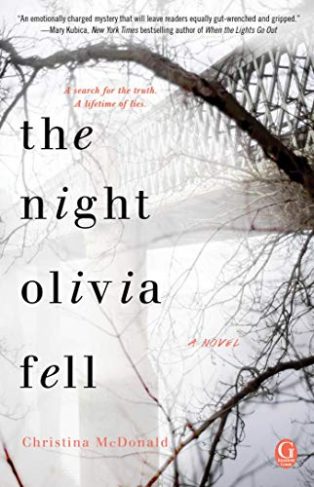 I went back to my favorite genre this week, reading the mystery The Night Olivia Fell.
The premise of this book caught my attention the moment I read the back of the book. Single mother Abi Knight receives the worst kind of middle-of-the-night call a mother can get: her daughter is in the hospital, having suffered a fall from a bridge. Olivia, Abi's daughter, suffered major injuries, leaving her irrevocably brain dead. Under normal circumstances, a person with this sort of prognosis would be removed from life support and allowed to die. But these are not normal circumstances. Olivia is pregnant, and the fetus is still viable.
I'll start with the things I struggled with while reading this book. First, and wholly as a matter of personal preference, I don't like the imagery of someone not realizing they were holding their breath. I understand that this is a popular way to convey that someone is experiencing shock, fear, or even excitement. I just don't find it believable. You know when you're holding your breath. This image appears several times throughout the story, and I took notice.
The character of Abi can come across as irritating and unreliable. Several times throughout the story she experiences feelings she can't identify. She is irrational, she is manipulative, she is a liar. But we are to accept those things as the actions of a loving mother. A single mother. We are never, ever allowed to forget that Abi is a single mother and everything she does is to protect the daughter she loves so much. Did I mention she's a single mother?
The last thing that I struggled with was the phone calls. There is always a phone call that interrupts an important conversation or revelation. No one in this book is capable of sending a call to voice mail. And no one is able to pick up what they were doing or finish the conversation they were having when the phone call is complete.
This is not to say that I didn't like this book. I did. It's entertaining, the plot moves fairly quickly (if a little redundantly at times), and I really like that there were alternating points of view in the forms of different chapters designated as Abi and Olivia. It was a great way to get different perspectives on what was happening.
True to form, The Night Olivia Fell is, at its heart, a whodunit. And I must give Ms. McDonald credit where credit is due. I made a prediction on page 48 about who committed the crime, and I was totally wrong. Ms. McDonald creates enough honest misdirection to keep you guessing the whole way through. The final revelation makes sense in an "of course it was that person" sort of way, with many of the clues you should have seen revealed in said revelation. If I guess wrong in a mystery, it's a good mystery.
I would say that there's a reasonable argument that The Night Olivia Fell falls under the same domestic thriller category as The Girl on the Train by Paula Hawkins. But there's a difference here. This book has some characters with redeeming values. Abi, while irritating and subject to her own mistakes, is someone we root for. In the end she's fighting tooth and nail for her daughter, and will not stop until she has answers. Olivia is a good girl, subject to the same issues and challenges all teenagers are subject to. Supporting characters balance the scales between kind-hearted and cruel.
In the end, The Night Olivia Fell is entertaining, a true mystery, and an easy, quick read. If you enjoyed Nineteen Minutes by Jodi Picoult, Midnight at the Bright Ideas Bookstore by Matthew Sullivan (read my review of this one here!), or 13 Reasons Why by Jay Asher (the book, not the Netflix series), you'll find The Night Olivia Fell an enjoyable read.
Official Kristine's BRF rating: