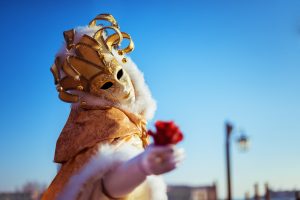 A man learns that a just king comes at a price.
That's all I have to say about the plot of The King's Mask by Melody Wingfield. This is a wonderful short piece that pays a bit of homage to The Man in the Iron Mask, though with a different twist. Ms. Wingfield deftly uses symbolism and double-speak to set up an atmosphere that is both creepy and a tiny bit hopeful. The setting of frivolity at the royal ball adds the perfect antithetic setting for what is to come.
But I think the best part of the whole story is the system of politics that the "first king" set in place. I won't spoil it, but Ms. Wingfield developed a fantastic system that is both simple and elegant. This system defines the story and brilliantly sets the stage for each character's motives. I thought this was wonderfully well done!
The only element that I wish had been a little more developed is the scene where the main character receives his mask. The first section of the story spends a fair amount of time detailing that the main character's appearance is, at best, plain, but is probably much worse, given the emphasis that is placed on his voice (he's a minstrel). When he receives the mask, a glorious and beautiful piece, I would have liked to have seen more contrast between the mask and the face, and a little more ceremony in the main character putting the mask on. This moment, which feels like it should be very meaningful, feels glossed over in a short paragraph. Admittedly, there could have been a word count limit, as this piece was entered in a competition (taking 3rd place, great job!!) so I'm inclined to believe this was less an oversight and more a difficult decision Ms. Wingfield had to make – a choice I'm not unfamiliar with. Given that I'm not sure anything else in the story could have been cut, I can live with this part.
This was a wonderful piece! I think everyone should give it read – it's quick and enthralling. Check out The King's Mask by Melody Wingfield right here.
Official Kristine's BRF Rating:

Photo courtesy of Serkan Turk via Unsplash.