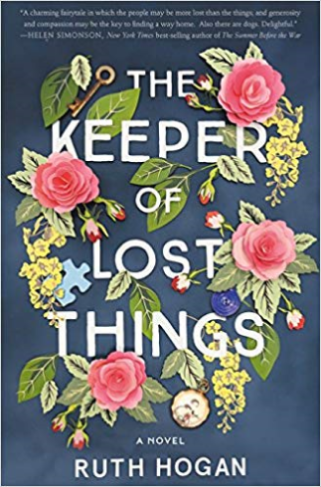 Literary fiction meets ghost story meets romance in the easy-to-read, sweet debut novel by Ruth Hogan, The Keeper of Lost Things. Ms. Hogan creates a story of love and loss, grief and recovery, and of impeccable timing. Her characters are lovable and flawed, and their relationships and interactions are defined by enough conflict that they are interesting, but not so much that you simply want to throw your hands in the air and give up all together.
The Keeper of Lost Things interweaves delight, mystery, grief, and love, and is satisfying without being overwhelming and charming without being false. It's not perfect, and falls into some easy cliché's, particularly in the subplot of the main character's personal relationship. But the flaws in the novel are easily overlooked and don't come across as distracting. Will this book change your life? No. But it is an interesting interpretation of what happens to the things we lose, and how we can't possibly fathom the stories each of us holds. In the end, it is a pleasant and entertaining journey.
I recommend this book to anyone who is looking for the satisfaction of a Jodi Picoult novel minus the heavy drama.
Official Kristine's BRF rating: