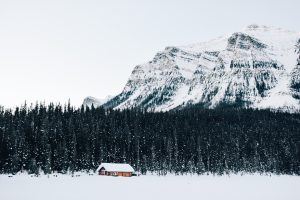 A bus crash leaves a group of tourists stranded in the frigid cold on the journey to Santa's Village (a real place in Lapland, Finland that you can visit!). With the bus driver dead and more children then adults, the worldly group of strangers must rely on each other, and on faith, to get them through the ordeal.
The Cabin Jesus Built is a longer short story that took me about 40 minutes to read. AM Lewis creates a tale of thrilling adventure, faith in the face of adversity, acceptance, and survival. Told from multiple points of view, this story is a companion piece, or more accurately a short prequel, to Lewis' larger Firstborn series.
Lewis' writing is excellent. With only a negligible handful of sentences that I would have written differently, the story flows evenly and at a consistent pace. I was both drawn in and impressed by the accurate portrayals of both adults and teenagers of a variety of cultures, and how each one perceives and interprets both every day events and the sudden turmoil the group finds themselves in.
The only thing I would have liked to see was a little more detail in the bus accident that leaves the group stranded. From the way it was written I thought the bus was merely sliding. It wasn't until the revelation that the bus driver had died that the severity of the accident becomes more clear. I would have liked to see a little more of the chaos that must have ensued during and just after the bus's descent and  crash.
To put this succinctly, The Cabin Jesus Built is one of the most beautiful stories I have every read. This story has obvious appeal to those of Christian or Jewish faith, but is really a wonderful story of hope, faith and love in all its forms.  No matter your beliefs, this is a heartwarming story told with excellent detail, perspective and forethought. It is sweet without being saccharine, and I think it's a wonderful selection for anyone who is looking for a nice, relatively quick, and uplifting read.
Official Kristine's BRF Rating:

Photo courtesy of Ryan James Christopher via Unsplash.