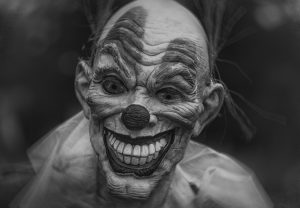 Crazed killers dressed as clowns are terrorizing a town. Detectives Shirley Adoms and Dan Carter are on their trail, but the killers seem to be one step ahead. And innocent bystanders are paying the price.
Such is the premise of The Back Pew, book three in Mallory Kelly's Clown Conspiracy  short story series. And there are no secrets here. Based on the title of this book and series, you're going to get exactly what you'd expect. And you won't be disappointed.
The first paragraph of The Back Pew sets the tone for the whole piece. It's dreary and ominous. I dare say it's gothic. Despite the fact that the first scene is supposed to be a fundraiser party for the church where the bulk of the action takes place, nothing can wipe away the sense of impending doom. It's an excellent start that grips you from the very first sentence.
Ms. Kelly never lets up on the reader. Even in the brief moments of hope sprinkled in, the story never lets the reader believe that the last moment of horror was the truly the last. There's more to come, and Ms. Kelly delivers each time.
Extra points for creativity where the murders are concerned. Creepy clown killers are quite in style right now, but Ms. Kelly imbues the pastiche with unique twists, interesting plot lines, and, best of all, gruesome and terrifying slayings. This story evoked every clown nightmare I've ever had, then pumped them full of steroids. This is horror done right.
This is the third story in a series, and I have not read the first two stories, though now I'm going to. What's wonderful about this is that I don't feel as though I've missed anything by not reading the first two installments. The Back Pew establishes quite effectively what the detectives are doing and what the situation is, and Ms. Kelly gives us the background information that we need with an expert hand. There was never a moment where I felt like I was missing something.
Though it was longer than I was expecting to devote to a story this afternoon (short story is a bit of a misnomer – I'd place this squarely in the realm of novella), I simply couldn't put this down. I had to know what happened. I tend to want thriller/suspense/horror stories to be made either shorter or longer (usually longer), but in this case I think Ms. Kelly did an excellent job with length. It's short enough to read in one sitting (it took me about 90 minutes to read, while also doing some chores), but long enough to feel really satisfying. If you're into creepy clown killers, The Back Pew, and I suspect all the books in Mallory Kelly's Clown Conspiracy series, is not to be missed. Check out The Back Pew right here.
Official Kristine's BRF Rating:

Photo courtesy of Robert Zunikoff via Unsplash.