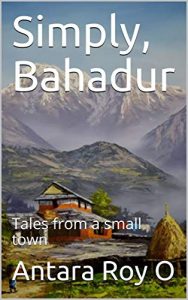 Simply, Bahadur, the first short story in Antara Roy O's collection, also titled Simply, Bahadur, is an interesting piece of writing set in a small town in India. On it's surface, it is a story told by a teenager or young adult about her experiences with the family's gardener/handy-man/everyman – Bahadur. He is at first portrayed as kind, wise, helpful and loyal, then evolves into mischievous and mysterious, next into dour and volatile, and by the end, back around around to quiet, demure, and, simply, Bahadur.
When I first read this story I was confused. The piece reads like a few memories jotted down, without a fully coherent story line. It's three anecdotes with a single link – Bahadur. But it's not until after you've finished reading it that the layers begin to show themselves. Through each anecdote the themes are loyalty, acceptance, love, forgiveness and family show themselves in equal measure, until you realize that this is a story about all the sides of a man, and the fact that in the end, he is accepted as, simply, Bahadur. This is a delicate and clever effect, and I'm impressed at Antara's ability to pull it off.
Simply, Bahadur suffers from a few superficial issues. The flow is choppy at times, and the word "often" has been used with abandon (though I wouldn't go so far as to say reckless). There is a scene where Bahadur is telling ghost stories, and the stories could have been a little more climactic. But all in all, this story keeps you reading, if for no other reason than to see where it goes. And you'll want to see where it goes.
This story reminds me of a warped version of Fredrik Backman's A Man Called Ove, and I urge you all to check out Antara Roy O's unique writing! Check out Simply, Bahadur in Antara Roy O's short story collection, Simply, Bahadur.
Official Kristine's BRF Rating: