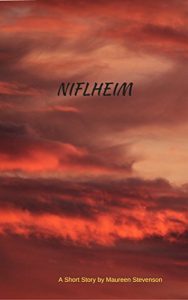 You can't have a story called Niflheim and have it go unnoticed. The title alone drew me in and captivated me! I love it and all the wonders it could possibly contain. Sadly, the title is the first and last time you'll read the word. But that's okay, because there's plenty more to discover in Maureen Stevenson's short story.
Niflheim takes place at least 494 years in the future, in a world that has been consumed by evil. Three saviors are born, and with their individual powers and their animal familiars, they are responsible for restoring balance to the World. We don't know if this world is Earth or some other realm.
Maureen adds her own take to the classic tale of the battle between good and evil. In this short story she clearly builds a world of myths and magic, inspired by elements from such stories as The Hunger Games, The Divergent Series, Harry Potter, Labyrinth, Arthurian legend and much more. The characters are interesting, their mission is adventurous, and the action starts right on the first page, exactly as a short story of this nature should.
There are some challenges while reading the story. I found myself struggling with incomplete sentences, formatting choices that I would have made differently, inconsistent tense, and choppy transitions. The action seems to jump from one incident to another. During battle scenes we seem to experience the action along with the narrator, while in-between scenes are being told to us by the narrator. This feels like it's in a middle round of editing rather than the finalized version.
But that's not a judgement of Maureen's talent. There are a number of passages where Maureen's writing shines beautifully and brilliantly. Without giving anything away, my favorite line was "The Demon King laughed and I could feel it deep in the unknown places of my soul." Wonderful writing here! I also really enjoyed the theme of accepting and trusting your inner self. I found that really insprirational!
Check out Niflheim by Maureen Stevenson right here!
Official Kristine's BRF Rating: