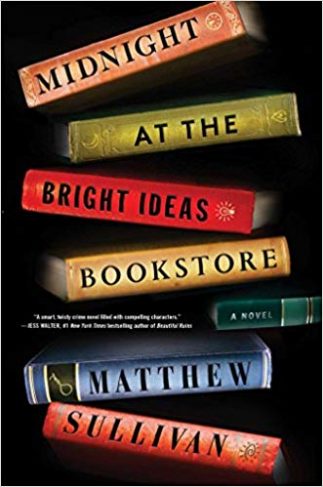 I love books about books! Any story that even so much as has a hint of books, bookstores, writing books, and I'm all about it. So I bought Midnight at the Bright Ideas Bookstore by Matthew Sullivan based solely on the cover. Yes, I literally judged this book by its cover. And yes, I liked it.
The premise is a fun one: Lydia Smith is living a very quiet, low-key life, working part time at a the Bright Ideas bookstore – a planned life meant to conceal a very public and traumatic past. All of her efforts begin to crumble when a favorite customer commits suicide in the bookstore, while in possession of a photograph of her from her childhood. I'll leave the rest for you to read, but what follows is a wonderfully weaved mystery of family, forgiveness, honesty, trust and vulnerability.
Matthew Sullivan is fantastic writer. His setting is inspired, or so I surmise, from his time working in a bookstore, and for me it shines through brilliantly. They say write what you know, and he's done a fantastic job of creating a place I definitely wish I could visit (trauma aside). Mr. Sullivan also does a great job creating his characters. The main characters are flawed and frightened and beautifully developed and relatable. The supporting characters serve to add color and quirk, humor and mystery. And I can't imagine a better name for a group of book store patrons than "Book Frogs". If I had a to be given a nickname based on my frequency at a book store, I hope it would be something as charming as this.
I will say, stretch your reading muscles on this one. Mr. Sullivan loves a long sentence, and if you're not prepared for it his writing style could become a bit exhausting. It took me several chapters to adjust, fighting against the creeping desire to label this book a style not compatible with my tastes. Boy, am I glad I didn't give up.
The best part of this reading experience was that I didn't figure out the mystery until it was already partially revealed. And I was fully surprised by the motivations for the mystery. The twist at the end is beautifully and delicately delivered, and once you've read it you'll look back at all the hints you missed, the hints now staring you in the face and seeming to say "how did you not see?"
An excellent book for the patient mystery lover!
Official Kristine's BRF rating: