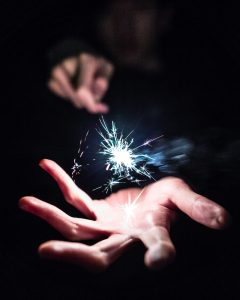 Like this review is going to be, I'll Put A Spell On You by Mark McInturff is short, sweet, simple and to the point. Mark posts a new short story to his website nearly daily, with this one appearing on June 26th, 2019.
This story falls under the category of flash fiction, clocking in at probably about 1,000 words (I didn't actually count) and easily takes less than 5 minutes to read (the website says 3 minutes but I'm not sure it would even take that). It's an excellent example of the "snapshot" short story that I tend to write, where you're not meant to know more. In the short length, Mark delivers a complete story arc with simple story telling, and leaves the wonderful implications of the story for us to imagine on our own.
I struggled to find areas in need of improvement in this story. There were a couple of grammatical/punctuation oversights, and one sentence that stood out that I would rewrite for flow, but other than that, this is a wonderful example of easy, no-frills, fun, drive-by writing! Great job, Mark!
Check out Mark McInturff's I'll Put A Spell On You and other works right here!
Official Kristine's BRF rating:

Photo courtesy of Mervyn Chan via Unsplash.