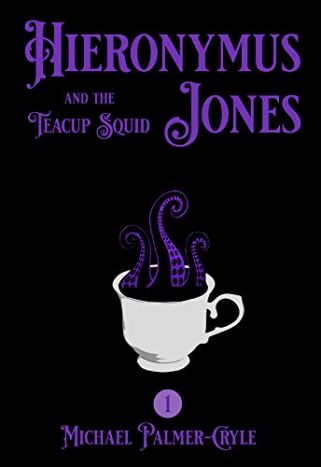 I am so excited to review this book because it comes from a fellow writer friend that I met on Twitter!
Hieronymus Jones and the Teacup Squid by Michael Palmer-Cryle was a sleeper hit with me. I absolutely fell in love with this story, and when I was done I did everything I could to try to get the next book in the series. Unfortunately, Michael hasn't finished it yet. Insert frustrated grumble here.
Hieronymus Jones is a young adult fantasy novel about a brilliant teenager (the eponymous Hieronymus, and yes, I enjoyed writing that) with secrets and abilities that alienate him from his peers. That is, until Gertrude "Gerty" Green walks into his life. And a mysterious and growing danger presents itself in his afternoon tea in the form of an angry squid. Hiero, as his new friend Gerty calls him, uses the substantial advantages he has at his disposal to understand and fight the cephalopods, while trying to navigate the twists and turns of his very first friendship. And Gerty, a loner in her own right, harbors secrets of her own, secrets that are not fully revealed in the story. It's clear, however, that she plays an important part in what is to come in further books. What follows is an epic opening to a wonderful series about magic, technology, heroism, friendship, and the importance of identity, especially in the teen years.
The real gem of this book, though, is not the magical, evil creatures and the lengths at which Hiero must go to combat them. No, what really took a front seat for me is how absolutely relatable Hiero and Gerty are as awkward teenagers. I giggled with them. I cringed with them. I felt my heart beat fast when they held hands but didn't know what it all meant. I cried out in entertained frustration that everyone else could see what was happening, but they couldn't. I fell in love with both of them. Michael did a fantastic job of writing believable teenagers, with every awkward, bumbling interaction perfectly reminding me of every second of being a teenager.
As a reviewer, I have to be honest, this book is not without its flaws. In this case, it's one major flaw – the editing. This book is in serious need of editing, mostly for punctuation. If I hadn't fallen in love with this book so quickly and so deeply, I most likely would have abandoned it for its editorial sins. However, that should relate just how strongly I love and believe in this story. You'll see from my rating below, that this is one of the rare cases where the story was good enough to overcome its editorial obstacles. And Hieronymus Jones does exactly that. If it weren't for the editorial issues, I'd have given this book a full 5 BRFs!
Hieronymus Jones and the Teacup Squid is a delightful mix of Sherlock Holmes, Inspector Gadget and Percy Jackson. If you want a fun, entertaining, heart-warming read that's friendly for younger readers too – and can overlook some editing issues – I fully recommend this book! I, for one, cannot wait for the next one to come out!
Official Kristine's BRF Rating: