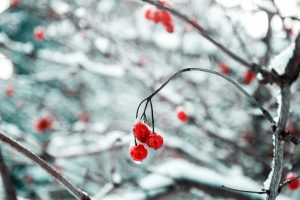 It's Christmas time and Gloria is in dire straits. Raising two very small girls as a widow is difficult. And she won't even touch the emotions tied to her husband's untimely death during World War II. Gloria's only concern is how she is going to manage next week's bills. It's a sad and desperate time. But the challenges she faces are about to get very complicated.
After Gloria saves her youngest daughter, Mary, from a creature of unholy provenance, a man in red delivers her oldest, Ellie, from certain death. The man is divine, and speaks of magic and belief like they're resources Gloria has access to. When he casts his angelic sights on her, she is nearly powerless to resist. But the truth about who he is and where he comes from is too much for Gloria to overlook, despite the Christmas miracle she is about to receive.
Gloria and the Angel is beautiful. Richly told and engrossing, it's a short story that I just wanted more of! Lucky for me, and all of you, it's a companion piece to Rebecca Kenney's larger Secrets of the Fae series. This story stands completely on its own, and delivers the magic of the Fae world without overpowering you with it. With accessible and relatable characters, the plot moves quickly and keeps you engaged. And Rebecca did a wonderful job editing the story for flow and ease of reading.
I think my only wish for this story (I can't even call it a criticism) is that I wanted a bigger climax. The man in red is certainly not of a holy nature, but he isn't exactly evil either. And when Gloria finds out who he is, I wish there had been a bigger struggle, more fireworks, a more protracted confrontation. But seeing as I couldn't help but sympathize with the man in red anyways, his actions don't seem out of character for him specifically (other's like him would have taken much different action, I'm certain of that). The effect, though, is undeniable. I want to read more. I want to know more about this universe. And I desperately hope that these characters appear in the series.
Check out Gloria and the Angel by Rebecca F. Kenney right here!
Official Kristine's BRF Rating:

Photo courtesy of Maria Mekht via Unsplash.