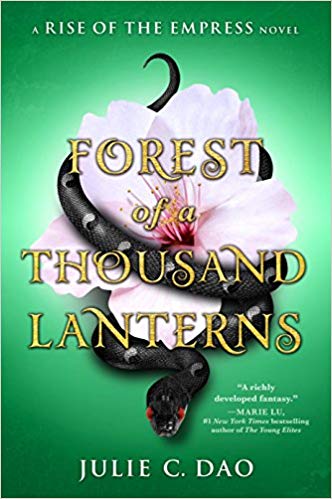 I'm back! Vacation was awesome and I was able to catch up, so here's the next book on the list, Forest of a Thousand Lanterns by Julie C. Dao.
Xifeng is a poor villager with beauty unsurpassed, a man who would go to the ends of the earth for her, and a scheming and abusive aunt with magical powers. When Xifeng has had enough of her aunt's venom and beatings, she finally allows her man, Wei, to take her to the Imperial City to make a new life together. But Xifeng has secrets and ambitions of her own, and refuses to escape the prison that her aunt had made for her only to step into another by marrying Wei.
Xifeng uses her beauty and her unexpected education to secure a place for Wei in the Imperial army, while impressing the Crown Prince so much that he recommends her to be in the service of the Empress. Along Xifeng's journey she is forced to make difficult choices between love and evil, and between happiness and destiny. But do not be fooled, Xifeng is no innocent blossom caught in the hands of fate. She is the preeminent anti-hero that you'll hate to root for.
I chose this book because of it's cover – it was pretty, and I'm not above judging a book by it's cover (applied only to actual books). The summary on the back intrigued me, and I found that I was quite pleasantly surprised by the story. Forest of a Thousand Lanterns, the first in the Rise of the Empress series, is packed to its binding with magic, intrigue, love, heroism, lore, sacrifice, and evil. It's a wild ride that kept me guessing all the way through.
I loved that the protagonist, Xifeng, is not necessarily the "good guy". She professes hurt and anger at the way her aunt treated her, but makes no connection or even excuses when her own actions mirror what she's been through. But Ms. Dao has done such a wonderful job creating the character that in the end, reluctantly or otherwise, you want to see Xifeng succeed. She knows how to play the palace political games well, though she learns her lessons along the way, and uses everything at her disposal to overcome her obstacles. At any cost.
The secondary characters are well written as well. Though we don't know everything that they're going through, we know enough about them and their connections to Xifeng that you worry when they are hurt, and questions their blind loyalty. Wei is a man that any woman would have a crush on, and Shiro will make you smile all the way through both with his humor and his cunning. In the end, as you watch Xifeng make her way to her destiny, you realize that they will all become victims of her choices. But none of them is helpless either.
Forest of a Thousand Lanterns will be a surprisingly satisfying read for fans of Game of Thrones, The Chronicles of Narnia, The Lord of the Rings, and The Crown. I look forward to reading the next installation.
Official Kristine's BRF Rating: