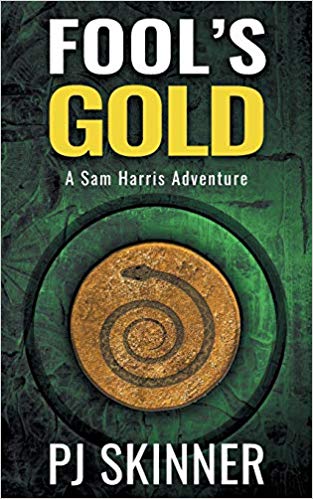 I've been reading some heavier stuff recently, and this week I wanted something a little lighter, a little more entertaining, and a little more adventurous. With Fool's Gold, by PJ Skinner, I was not disappointed.
Sam Harris is a recent geology graduate in London in 1987. A chance meeting with Mike Morton – an "entrepreneur" who once fleeced Sam's father out of a great deal of money – leads to an interesting job offer, a rarity given that jobs for geologists are in short supply, and even more so for women. Though the offer is shady, and certainly one-sided, Sam accepts, and travels to South America ostensibly to analyze geological sites for their potential as gold mines. The purpose of the field assignment soon changes when a treasure hunter drunkenly stumbles into their midst, offering each a chance to chase their own dreams, despite the dangers lurking at every turn.
Fool's Gold is a terrific romp! It's fun, it's thrilling, and at its core is a heart made of anything but fool's gold. Sam presents a fine protagonist, a young woman trying to make her way in a man's field of study, and trying to find herself as well. She struggles in the first half of the book, having doubts and reactions to certain events (don't worry, I won't spoil them) that I did not agree with given how determined she is to compete. But in the end, she won me over. And the same goes for the cast of characters around her.
The villain, Wilson Ortega, presents a good foil, and is written in such a way that you nearly excuse his behavior as both a product of culture and time. As we see Sam grow, we root for her against Wilson, and pray that he gets what's coming to him.
I had fun with this one. It's not too deep, and does quite a bit of character building in the first half. Given that this is the first in a series, there's nothing wrong with that. And what I really like is that the author left plenty more room for these characters to grow.
This is a great book if you're looking for a well-paced adventure to take on vacation.
Official Kristine's BRF Review: