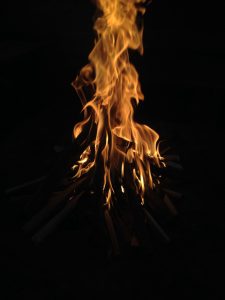 A woman made of straw and a man made of fire. An underdog love story for the ages. Or is it?
In Flammable, Cathleen Maza creates a beautiful world where love conquers all when Lillian, a straw woman, goes to great lengths to be with Jared, the man of fire she has fallen in love with. He is everything she isn't supposed to have. And she is all that he could destroy. But what is life without taking a few risks, especially in the name of love?
I absolutely love the idea of being drawn to something so very bad for you. Stories like this are always chock-full of action-consequence, and watching these choices be made can be truly delightful. And Cathleen does a wonderful job of creating that impending sense of doom that we think might come. Does it, in Flammable? You'll have to read it to find out!
There were two elements in this story that I wish had been done differently. The first is that I wish Cathleen had edited out some of the language that hedges the sentences. Rather than say "he found her intoxicating" she says "he found her almost intoxicating", or "For seemingly the first time in their relationship…" rather than "For the first time in their relationship…". I found myself wondering why, when the rest of the writing is so strong, so definitive, Cathleen hedged on these sentences.
The other point that got me is that Flammable is found in a collection of short stories called Same Problems, Other Worlds. It's a wonderful collection and I highly recommend giving it a read. However, about three quarters of the way through the story, one of the characters is travelling to Europe, which unequivocally sets the narrative directly on Earth. Up until that point, I was very much enjoying the idea of these very human problems being experienced by an alien race.
Overall, this story is a fable about love, choices, and consequences. And if you choose to read further, you may find a statement about the role women play in society, which I thought was a nice touch and was delicately delivered. Check out Cathleen Maza's Flammable in the collection Same Problem, Other Worlds, right here.
Official Kristine's BRF Rating:

Photo courtesy of Michal Grabolus via Unsplash.