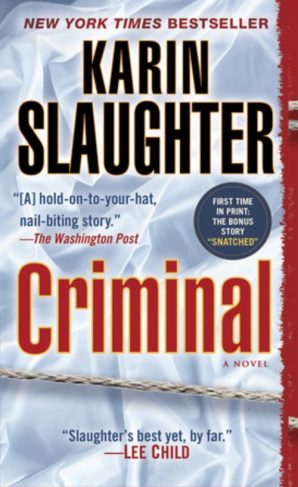 I'm on a mystery/thriller kick the last few weeks, and I'm constantly reminded of why I love these genres! Karin Slaughter's Criminal is the quintessential hard-boiled crime thriller. It's gritty, it's wild, it's unpredictable. And as someone who revels in writing horrible villains, I confess that the villain in Criminal left me shocked.
Will Trent is an agent with the Georgia Bureau of investigation. His world is turned upside down when his boss, Amanda Wagner runs into him at Will's childhood residence after prohibiting him from investigating the current missing person's case. In the present day, we follow Will as he tries to understand Amanda's motivations while simultaneously coming to grips with his own past. We also follow Amanda Wagner as she cuts her teeth as a police officer in atmosphere of sexism and racism in 1970's Atlanta. Her past and Will's present are inextricably linked by a violent murderer who has taken up his old habits once again.
I read this book in two days. It's easy to read, the plot starts on high and never lets up, and I simply could not put it down. Her villain is the most despicable character I have ever read, and there were points where I felt like I was brought to the edge of what I could tolerate as a reader. Which only served to push me further. When I said gritty and shocking, I meant it.
I will caution any readers that there are strong elements of sexual assault, violence (particularly against women), sexism and racism in this book. While by today's standards these scenes are criminal (no pun intended), they do set the tone to be immersive to the environment of the the 1970s in the south. In the acknowledgements, Ms. Slaughter reveals the extensive lengths she went to in order to accurately portray the time and the place. I truly felt the struggle, the horror, the frustration, and the redemption in the end of the small wins that lead to the present day story line.
Criminal is the first book written by Karin Slaughter (whom I get to meet later this year, btw!) that I've ever read. It's the sixth in the Will Trent series, but it's written in such a way that, for the most part, I don't think I was hindered by not having read the previous five. There were a few small bits here and there that must reference previous novels and story lines, but it wasn't enough to be distracting or make me feel like I was missing something. I do plan to do go back and read the series from the start.
I could not have been happier with this week's selection. I can't wait to read more! If you love crime thrillers and fast reads, or if you enjoy anything written by Lee Child, then Karin Slaughter is an author for you.
Official Kristine's BRF rating: