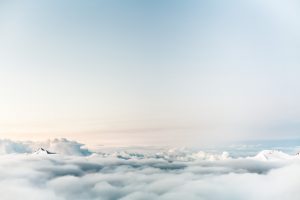 An Elegant Solution, by Trisha Lea, provides an elegant parable to the hope attributed to the afterlife. We all think we're going to heaven. The words, the atmosphere, the contrast, the sacrifice. It all combines to create this moody, self-reflective tone that causes the reader to reflect on everything from the existence of a soul to the possibility of redemption to the value of a hot shower. What are we heading for? How do we get there? Will it be worth it? And in end, what will it have all been for?
This story is brilliant and dark, well-written and a pure treat for the cynical soul. I could see An Elegant Solution being a companion piece to a larger, longer story set in the dystopian world Trisha creates. I would absolutely love to see a prequel that details the protagonist's life leading up to this story.
I blissfully have not found any areas that I would say need improvement in this story. It's beautifully crafted, without a single word wasted. If you are looking for a quick and snappy break from your everyday tasks, enjoy the fall into the world Trisha delivers in An Elegant Solution!
Official Kristine's BRF Rating:

Photo courtesy of Dominik Schroder via Unsplash.