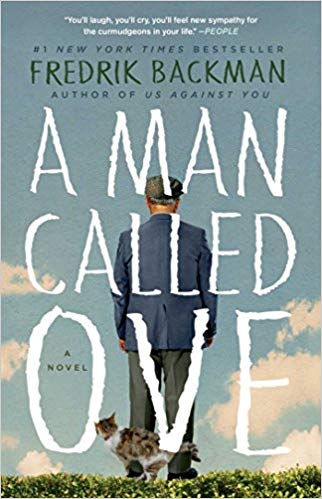 Get the tissues ready for this one, guys. It'll get you right in the feels!
All Ove wants to do is die. Not because he's suicidal. He just believes that when a person has no purpose, they don't need to be around any longer. So he sets out to end his life. But, as with most things he's experienced in his life, the failings of those around him to do anything correctly constantly prevent and distract him from completing his task. New neighbors, old friends, and a scruffy cat impose themselves on Ove's life and routine to both hilarity and poignancy.
On its face, A Man Called Ove by Fredrik Backman is a story about a grouchy old man and the community around him. But in reality it is so much more. It's as much an examination of how we think about our neighbors as it is a statement on the advancement of technology, the irritation and abuse of bureaucracy, and the nature of love and loss. But most importantly, in my opinion, it's a treatise on the importance of forgiveness, love, and hope. And it will get you right in the heart.
This book was recommended to me by a friend in a writing group, and when I picked it up I was rather neutral about it. The writing style is straightforward and easy to follow, the chapters relatively short and mostly self-contained, and the plot elegant in its simplicity. All in all, a highly readable book, with some very funny passages, some very touching passages, and some very infuriating passages. I was entertained, but it wouldn't say I couldn't put it down.
And then I got to the last 40 pages.
Fredrik Backman brings you on an unassuming journey, lulls you into a sense of security, and then bursts you open and demands your emotions flow free. The very first section is tied back in, and you begin to understand why Ove is doing the things he is doing (aside from the attempts to take his own life). Those last 40 pages bring a deeper level of meaning to everything you've read in the previous 300 pages, making each experience that much more important, that much more vivid, and that much more meaningful. For most of the book, you, the reader, are an outsider, watching these experiences happen to the characters. And in the final salvo, Mr. Backman seamlessly draws you in so that you are as much a part of the community as any of the characters. The final events belong to you as much as they belong to the cast of characters that surround Ove, to his varying degrees of chagrin.
With the final page finished, I dabbed my tear-soaked face with my umpteenth tissue and fanned myself with the book. It is a rare occasion that a book leaves me in such an emotional puddle. Fredrik Backman is a writer who truly understands the nature of storytelling, and I look forward to reading his other works.
If you love a book that makes you really feel your emotions, that leaves you helpless but to shout in victory and despair in defeat, and makes you want to shake your neighbor's hand, then A Man Called Ove is the book for you.
Official Kristine's BRF Rating: