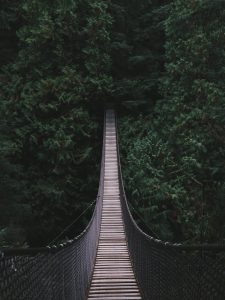 Action and adventure mingle with suspense and terror in this science fiction romp!
Roogo is an expedition leader leading an ever-dwindling group of people through perilous and uncharted jungle. Bridges of mysterious origin dot the canyons, along with a countless variety of flora and fauna, each holding unique and deadly dangers. As the group is slowly picked off, Roogo wonders if he will ever get what's coming to him.
A Bridge Too Far by Lelia Rose Foreman was an absolute delight. I found it to be a cross between Jeff Van Der Meer's Annihilation and James Cameron's Avatar. This story was filled with swashbuckling anti-heroes, moral conundrums, and of course, treasure! The story is well written, with enough fantastical elements to draw us into a science-fictional world, without being so esoteric as to be alienating. You don't have to be a hardcore sci-fi fan to enjoy this one, just a lover of adventure.
I don't have much more to say about A Bridge Too Far. It was and excellent read, very well edited, and very deserving of its place in the Northwest Indepentent Writer's Association 2017 Anthology Bridges. Check out A Bridge Too Far by Lelia Rose Foreman right here.
Official Kristine's BRF rating:

Photo courtesy of Andre A. Xavier via Unsplash.