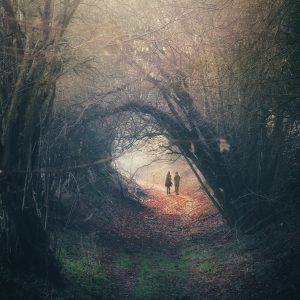 Nathaniel appears every bit the unremarkable high school senior – neither a stand-out in any arena, nor the type that gets bullied. He's average. He flies under the radar. He's rarely noticed unless he chooses to be.
But Nathaniel has a secret, one that makes him special, even magical. And the only person who knows about it is the girl he has a crush on: Ivy. Ivy has her own secrets, though she wears them for anyone who puts in the effort to see. Very few people put in the effort.
Hiraeth by Ian Donnell Arbuckle starts with protagonist Nathaniel saying that the anecdote he is about to relate is the closest he's ever come to being intimate with a girl. That doesn't mean what you think it means, and I think Mr. Arbuckle did a fantastic job of turning the concept of intimacy on its head and talking about it in a different way. At this point, and much through the first half, Ivy feels dangerous. There is a creeping sense that she will be Nathaniel's undoing. What's even better is that I felt the anxiety I imagine Nathaniel would feel, and yet I was just as helpless to resist as he is. I was as reluctantly drawn in and committed as the main character, and I could do nothing but continue on to my own doom.
The ending was a little muddled for me. I read it multiple times and I still had trouble figuring it out. I thought I understood the rules of Nathaniel's magic, but based on how the ending reads I'm not sure I do. If I were to make a suggestion it would be to add a little more detail throughout to help clarify the mechanics of the magic, so that we know what's at stake when something goes wrong.
Hiraeth has some truly beautiful language in it. The scenes of description are so seamlessly woven into the fabric of the story that you don't feel like someone is describing something to you. You are simply seeing it. There were a few lines of word play that made me smile, most notably, "Her name was Ivy and she grew on me." I thought that was delightful. And my most favorite piece of description came when Nathaniel found refuge in the girls bathroom, where he says, "Sometimes, on my own time during school hours, I liked to slip in there, just because it felt ever-so-slightly wrong. It wasn't the perverse thrill of being discovered, because I knew I couldn't be, but to sit in an empty place that was not meant for you – well, I recommend it." That small and private feeling of satisfaction knowing you're breaking the rule, but only a little, was so expertly delivered that I too, felt a wonderful guilt for being there with him.
One part high school story of unrequited love and one part exercise in magic realism, Hiraeth  leaves the reader both curious and nostalgic. At multiple points in this story I was left to wonder what was happening, and where the story was going. In the final scene, few of these questions are answered. I felt I was missing something, in more than one way.
That may very well be the point. As I found out, the word "hiraeth" is a Welsh term with no direct translation that describes the feeling of missing home (yes, I looked it up .#unashamed).  After reading the final scene, I did feel a confusion about the order of events, which at least partly stems from that questionable grasp of how Nathaniel's magic worked. In fact, even Nathaniel doesn't fully understand it.
But more than that, the entire story is imbued with this sense of longing, mostly for a halcyon, more innocent time. The sense throughout the story is that Nathaniel is at some level aware that his innocence is fading, culminating in the final scene where he literally has to say goodbye to what appears to be the last vestiges of his childhood.
This was one of the most unique pieces I've read so far, and the story touched me in such a way that I can't help but overlook its small blemishes. I highly recommend Hiraeth by Ian Donnell Arbuckle, which you can read right here.
Official Kristine's BRF Rating:

Photo courtesy of George Hiles via Unsplash.