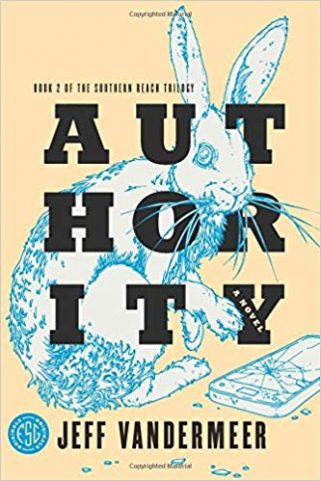 This week I'm covering book two of the Southern Reach trilogy by Jeff VanderMeer, Authority.
Authority is written from the perspective of the acting director of the Southern Reach (which oversees and researches Area X), a man who insists that everyone calls him Control. Over the course of his first week in his new position he is confronted with everything from insubordinate employees to wild conspiracies and cover-ups to mentally ill scientists to the revelation of family secrets. To say the least, it's a challenging week for anyone new to a job.
Often times the second installation in a trilogy suffers as the bridge between the beginning and the end. In this instance, this is true. Control (a ridiculous name, in my opinion – made even more so when you learn how he got the name) is a former secret operative who suffered a fall from grace, obtaining his position only because his very powerful mother made it happen. And because apparently no one else wanted to do it. But for someone who allegedly has a very powerful background, Control is weak, ironically inauthoritative. When confronted by someone who is supposed to be his subordinate, he comes across as a piddling, mewling, wimp. And much of the book is office politics and butting heads. What's happening with Area X and its research is only revealed in secondary story lines.
That's not to say I didn't like the book, because I did. There are revelations made that are important to the story, and we are led further down the road to figuring out what is actually happening. Area X is it's on antagonist, but shares that title with hubris and lies. Authority almost comes across as a satire on the current state of affairs in the real world, which makes the story kind of brilliant.
As with any series, if you've made it this far, definitely keep going. A reader certainly can't judge a series by it's middle book. I'm excited for the third and final act.
As a stand alone book, here's my Official Kristine's BRF rating: