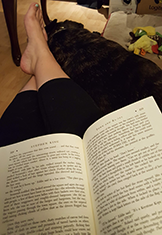 Welcome! Since this is the inaugural issue of my newsletter, I'll tell you a little about me and why I chose to do a newsletter. First, I'm a full-time, stay-at-home writer, working mostly on novels, but with a healthy hobby of writing short stories. I have a wonderful husband, Tim, and a dog and a cat – Bee and Oscar respectively. I've been writing for my whole life, but it wasn't until two years ago that I left a paying job to pursue my dream of being an author. Check out more of my story here!
In the research and work I've put into making a real go of this dream, I've learned a lot. I mean A LOT. One of the most common pieces of advice that is out there is to gather a following and stay on people's radar. Hence, this newsletter. And Facebook. And Twitter. And that's before you have anything published, or even in the works.
I knew this newsletter would be the most enjoyable way for me to keep in contact with all of you. But I didn't want it to just be me telling you all the ways everything is going right in my life. Because it's not. Nor did I want it to be a confessional wherein I describe all the ways things are going wrong in my life. Because things aren't going wrong either. But I do want this newsletter to be an honest reflection of the pursuit of my goals. Sometimes thing will be great, sometimes they'll be challenging. And I want you to be a part of it all.
So, without further ado, here's what's going on.
My latest short story, Serving Size, has been entered in the Round 1 of NYC Midnight's Short Story Competition. I won't hear results or feedback on that until late March or early April, so stay tuned to find out if I make it to the next round. You can read it and leave feedback here.
I have started work on a new novel, a paranormal thriller titled The Prison Library. My goal is to have the first draft completed by May 1, 2019. There, I've said it. Check in with me on Twitter @KristineDonahu7 to hold me to it!
I've also started doing book reviews! They are posted in two places online: first, at my website, under the now revamped blog Kristine's BRF (Book Review Forum! Get it?). Second, I have reviews posted over at Online Book Club (check out my OBC reviews here!). The more you check it out at OBC the higher my reviewer score!
If you have a book you'd like to me read and review, please feel free to reach out on Twitter or Facebook, or contact me via my website! I'd love to hear from you!