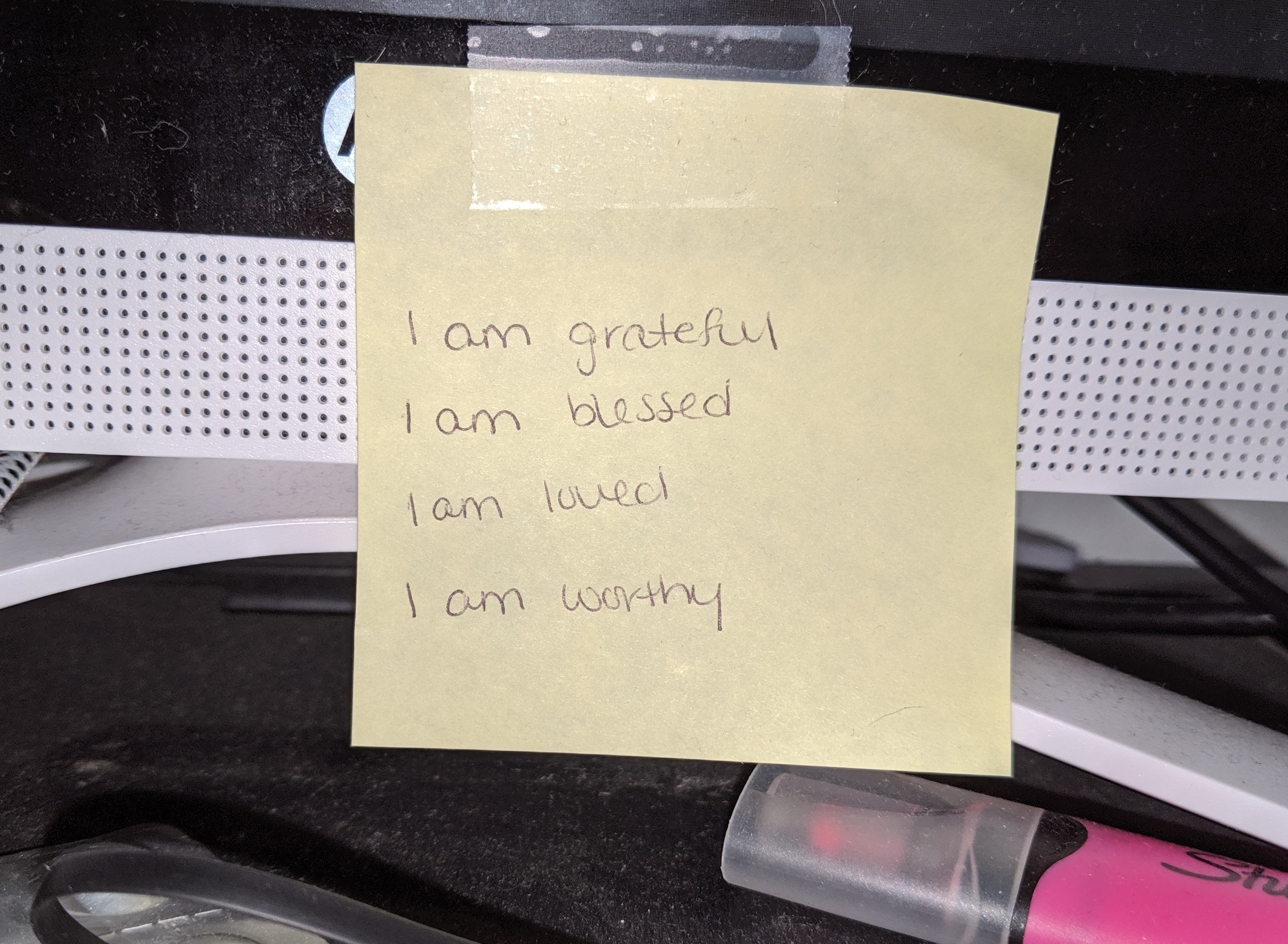 Hello again and welcome to another installment of my Dream Chasers Newsletter! Sappy alert, this one gets a little mushy.
It's that time of year again, when the weather is getting colder (at least in Connecticut), the leaves are dropping, and everything smells like cinnamon and pumpkin spice. Halloween, the last sentinel restraining the holiday season from exploding into the rest of the year, is now over and we are fully in the holiday season. While this time of year is often defined by Black "Friday" sales (those sales have apparently already started), family gatherings and gift giving, I like to remind myself that this holiday in particular is a time for gratitude.
Of course, I remind myself that every season is a season for gratitude. But it's also easy to forget. So, as you can see by the photo for this section, I have a note to myself that I see every single day. Yes, that's really taped to the front of my computer monitor. And yes, I need to dust. The note is a reminder to myself that I am grateful, I am blessed, I am loved, and I am worthy. (And if you look closely, you'll see I'm also prepared for the next time I have heart burn!)
Somedays it's easy for me to know these things. Sometimes it's a real struggle, and even the stalwart presence of Post-it note isn't enough to remind me. When the going gets really rough, it's easy to succumb to the doubt, the insecurity, and the voice in my head that tries to tell me that I'll never make this work. And some days, succumb I do.
The frustration and uncertainty of chasing a dream, of chasing this dream, is ever present, as I've talked about in the past. I often feel like I'm wasting time and resources that could be devoted to something more traditional and more secure. I admit that I've been tempted, repeatedly, to return to jobs and fields that I know will make me unhappy, simply because it would be much easier financially. Sometimes that temptation is so great that no Post-it note with inspirational reminders can stop me from job searching and applying, despite the overwhelming power of a Post-it note (writers, you know what I'm talking about).
That's when the power player enters the game.
Tim (my husband) has never let me be completely consumed by the doubt and despair that anyone who is chasing a dream or a goal inevitably feels. He's never once allowed me to give up, even when I begged and cried about it. He simply hugs me, then sits me down in my office chair, kisses me on the cheek, and tells me to write something. Anything. To forget everything else, and just do what I do best: write.
And it's never failed. And I'm hoping it never will.
There will never be a time, no matter how much success I find, when I will be completely secure in my ability to make a living as an author. Most days I've got enough confidence to keep going. Somedays I need the Post-it note. And once in a while I need the faith and tough love of my favorite person to get me out of my head so I can get my head back in the game.
It is for this person, my Tim, that I am grateful. And blessed. And loved. And worthy.
Updates and Goals:
I'm making some headway on the short story reviews. I'm not sure if I'll be able to get to them all by my goal date of December 31st, but I'm trying my level best!
I'm doing National Novel Writer's Month (NaNoWriMo) this month. I'm working on short stories so at the end of the event, if (no, when!) I "win" I'll have a handful of short stories that I can work on to submit. I'm wildly behind, but I'm still trying!
I'm gearing up for my first semester at WCSU. I have no idea what to expect, but I'm in near constant contact with my program coordinator (who is amazing!) and I just couldn't be more excited to get started!
Photo for this section courtesy of me!
That's all! I mean, of course there's more, but that's all for the writing stuff! Keep reading to meet my latest Peer Highlight interviewee!