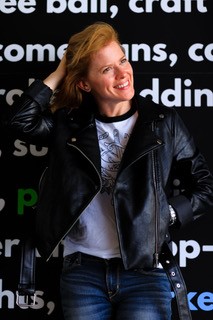 This month's peer highlight is about one of my new favorite people in the whole world, the incomparable Carla Hoch. Carla has written the book FightWrite: How to Write Believable Fight Scenes (published by Writer's Digest). She was a speaker at this years Writer's Digest Annual Conference, which is how I met her, leading two seminars, the first titled Writing Fight Scenes, Battles and Brawls: Everything You Need to Know, and the second, FightWrite: From Practical to Tactical. As an added bonus, in the description of the FightWrite session, it said audience participation optional. If you know anything about me, you know I was powerless to resist the subject matter, and I certainly wasn't disappointed.
But this isn't about the sessions, awesome though they were. This is about Carla, who is equally awesome, and then some! Carla's been a life-long writer, though she's been doing it professionally for about a decade. Her first real foray was when a local Barnes and Noble agreed to carry her self-published book. Another local author introduced her to the world of writing conferences, where she pitched her first fight-heavy book.
In order to accurately portray fights in her writing, Carla enrolled in some self-defense classes. It is there where the worlds of fighting and writing clashed and Fight Write was born. She parlayed her research into an opportunity to write for a martial arts company, in addition to writing for a magazine and doing some advertising writing, as well as launching the Fight Write blog (check it out right here).
But launching a successful and popular blog, and writing in general, wasn't the goal. In fact, Carla never intended writing to be a career. It was simply something she enjoyed. She's written a number of award-winning short stories, but before that, she was a high school Spanish and English teacher. After taking a break to raise her children, the plan was always to return to teaching. But then she wrote a book and got the "writing bug." Of this career change, Carla says, "When I started the FightWrite blog, it quickly became bigger than me. The more I posted the more folks read it and I thought, well, this isn't so bad! Maybe I can do this! The blog landed me teaching gigs at writing workshops and contract work as a fight scene editor. Then the Fight Write book came about, Writer's Digest sent me a contract, and I guess this is what I do now! Ta-da!"
So what makes Carla qualified to write about fighting? Carla has training and experience in about 10 different fighting styles and is currently training in Brazilian jiu-jitsu. Occasionally, she gets "in the ring" and competes. (As I'm told, there actually is no ring. According to Carla, "it's a very unimpressive square on the floor.")
This "research" (who are we kidding, it's just plain fun!), serves to inform her seminars and her non-fiction work. She says, "when somebody who looks like me says they teach anything about fighting, folks think it's a joke. I'm on the wrong side of 45 and am built like a hobbit child. I look about as intimidating as a dog in a purse. After the person stops laughing at me, I either get a "that's cool," or a good whiff of their ego, meaning they will ask me a question to challenge my knowledge. This happens at every single writer's conference where I have taught. Every. Single. One. I will be questioned about some obscure sword or martial arts technique. Now, I don't claim to know everything. What I don't know is a lot! But, so far, I've gotten all the "challenge" questions right."
And what about what she writes? I'll leave that to Carla's own words as well. "For my Fight Write book the audience is anyone who has any sort of violence or evidence of it in their work. The book isn't just about writing fight scenes. It also teaches about the psychology behind aggression, stages of decomposition, how wounds appear, statistics on how women kill, how to choose the best weapon for your character…lots of cool stuff. My other work is for anyone who likes untidy stories. If you like happily ever after tales, my work is likely not for you."
So, Carla fights, and she writes. But wait, there's more. She is also a wife, mom and proud Texan, and she loves "reading, watching movies/TV, Candy Crush (don't judge me), and Jesus, but not in that order!" And a cool piece of lineage is that she is a descendant of Shakespeare's maternal aunt, so writing is literally in her blood!
I asked Carla what she is most proud of accomplishing in her career, or in any area of her life, and she told me that her "mic drop moment" was being published by Writer's Digest. She said, "I literally put my face in my hands and cried. Heck, I still get all choked up over it! Fight Write had been rejected by other publishers. Actually, it was rejected by Writer's Digest. They just didn't know they rejected it! So, writing-wise, that is my greatest achievement I feel very blessed by it."
And personally? "On a personal level, I am proud of my kids. They are kind, funny, loving people and it's an honor to raise them. Being their mom has made me a better person."
As you all know, I always ask if my interviewees have a quote or mantra they keep in mind while pursuing their dreams. Carla's answer is too good to paraphrase:
"I don't have a mantra so much as I just don't believe in giving up.
"Writing has a lot in common with fighting. The only fighter who never loses is the one who doesn't get in the ring. The only writer who is never rejected is the one who never submits a MS [manuscript]. In both cases, "failing" is solid evidence that you had the guts to give it a shot. And, you'll find that you learn far more from losing/rejection. Both expose your weaknesses and if you don't know where you are weak, you won't ever be strong. Here's the thing: failure is food, winning is wine. Now, you can live without wine. But, to grow stronger, ya gotta have food.
"Embrace the ups and the downs because, from what I've seen, success doesn't happen on a smooth upward trajectory. It's more like a steady ascension of triangles: up, down, up, down. What you have to remember is that the down of today is on the same plane as the up of yesterday. So, don't give up. Take your punches, hit the mat. Then get back on your feet and get back to writing."
And of course, I always ask for any final comments. Here's the advice Carla shared with me:
"If you remember nothing else from this interview, remember that you should write and/or keep writing. This world is starved of bravery and writing is a brave venture. It demands vulnerability and there is no greater act of courage than the willingness to be vulnerable.
"No matter what you write, the world needs it. They either need to be transported by it, taught by it or ticked off with it. They need something that demands they don't remain where they are. Writing can do that. You have a story in you or you wouldn't have read this interview. Write it. And, when you aren't writing, read. When you aren't writing or reading, listen. You aren't the only one with a story. Everyone else has one too. Listen to it. Stories aren't just tales we tell. Our stories are who we are. As Dr. Who said, 'we're all stories in the end. Just make it a good one.'"
Carla is so inspirational, so witty, and so wonderful to know. I am so grateful that I got to meet her this summer! Make sure you check out everything #FightWrite:
Fight Write: How to Write Believable Fight Scenes - published by Writer's Digest
FightWrite.net - Carla's website
Catch the Fight Write Podcast anywhere you listen to podcasts.
Say hi and give a follow to Carla on Twitter @carlahoch and on Instagram @carla.c.hoch.
And don't forget to search #fightwrite #fightwritebook and #fightwritepodcast on all your social media and search engines!
Know someone you'd like featured in the Peer Highlight? Send me a recommendation by clicking here!