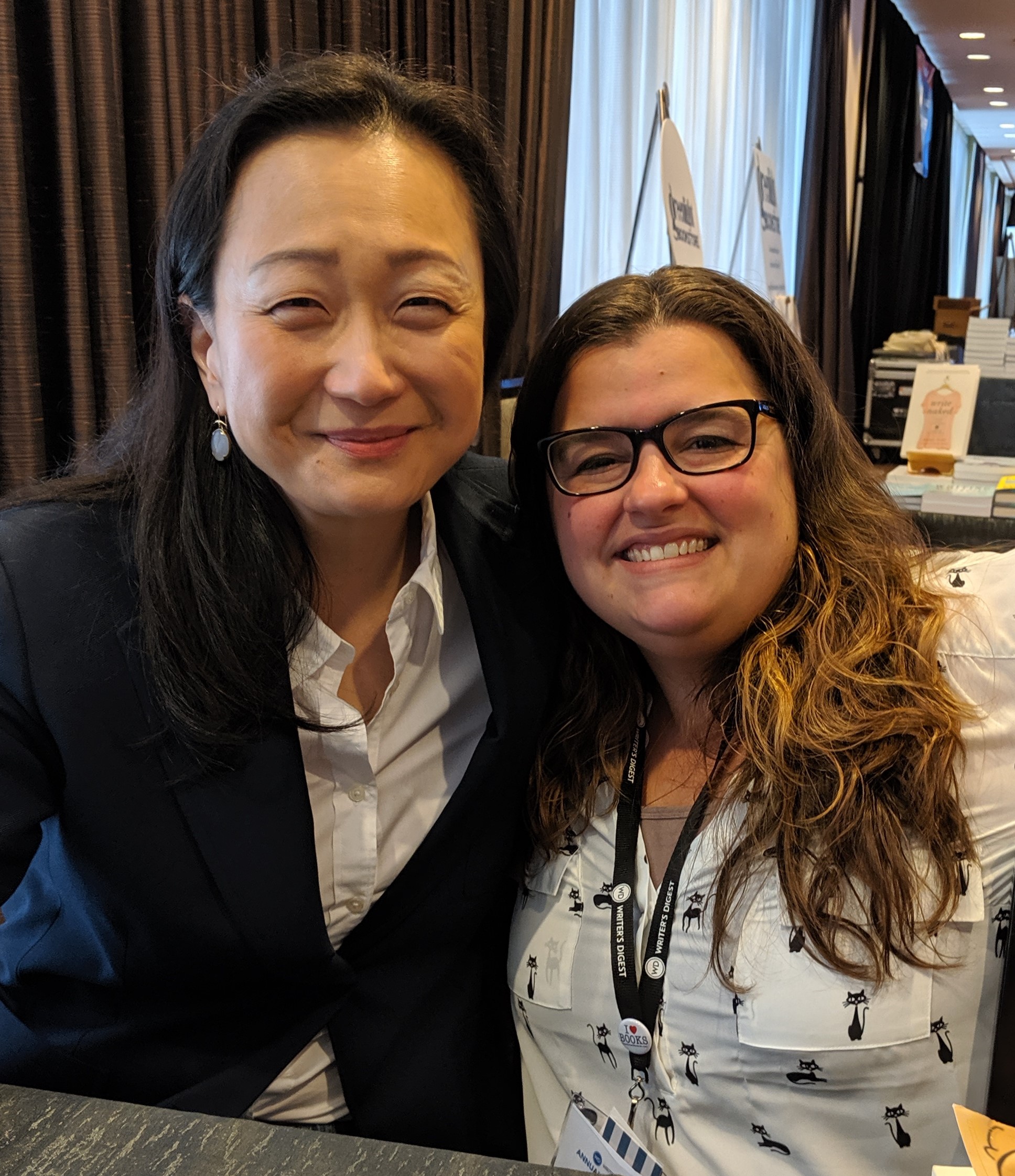 Hello my fellow Dream Chasers and welcome to my newsletter! Get comfy, this one is kind of a long one.
Last month was the Writer's Digest Annual Conference, and I'm still buzzing about it. I had spent so much time psyching myself up about it, and thinking about how amazing the 2018 conference was, that I had started to worry that I was going to be disappointed. How could it possibly live up to the bar that I had set in my head?
Thankfully, my worries were laid to rest the second I walked into the conference. Just being surrounded by fellow writers is wonderful. Add the superb content, and the sparkle of meeting two of my most favorite authors, and once again, this conference was out of this world.
I think I mentioned this in last month's newsletter, but this year I decided to forego the pitch slam. I didn't have anything ready to pitch, and while it's an amazing experience, it wasn't something I thought would be a good investment for this year. Rather, I spent the extra money and took a full day workshop that took place on Thursday (the conference proper was Friday through Sunday). This all-day intensive workshop was titled How To Write A Page Turner: Mastering the Art of Tension and was led by Jordan Rosenfeld, the person who quite literally wrote the book on writing gripping tales. This workshop was a master class on the art of building tension, and a primer on Ms. Rosenfeld's book, also titled How To Write A Page Turner.
Opportunistic marketing ploy? I think not. I've been writing for a very long time, and the information and techniques provided in this refreshing course helped me not only see how, where, and when I can imbue my work with riveting tension, but also where and how to spot slower passages in my own work. We completed and shared writing exercises and exchanged thoughts on each other's writing and on the material itself, while also making friends and learning about each other's works-in-progress, style, and lives in general. It was money exceedingly well-spent, and I'm beyond delighted to have taken the course.
During the conference proper, I was once again met with well-curated courses that covered the gamut from craft to publishing and beyond, and I was quite pleased to find that there were a number of seminars that focused on the short story. Last year, I spent much of my time taking workshops on pitching and querying, all in preparation for the pitch slam that I would be taking part in on that Saturday. This year, I felt free to take whatever I wanted. Standout workshops included Selling Short Stories & Flash Fiction and Editing Your Short Stuff, both taught by Windy Lynn Harris (check out her website right here), as well as Writing Fight Scenes, Battles and Brawls: Everything you Need to Know and FightWrite: From Practical to Tactical, both taught by Carla Hoch (check out FightWrite right here!). Both of these instructors were kind, knowledgeable, and beyond happy to share their expertise.
Of course, every class I took was a wonderful experience, and I could write ten times as much about the content provided at the conference. But that wouldn't leave any time for me to talk about my absolute favorite part of the conference: the people.
I met so many amazing people this year, just like last year. Writers from far and wide come to this conference to share their work, learn new techniques, commiserate with, and celebrate each other. Making friends at this event is so easy, and I know that, once again, I have made connections with people that will last my whole life.
I was also fortunate to see some familiar faces, one of whom all of you were introduced to last month! My very good friend Kristi Lowe was also in attendance, and we had a wonderful time catching up and talking about everything that's been going on since last year! It was such a pleasure seeing her again!
The last (well, not the last) part of the conference was the keynote speeches. Each day was capped by a speech given by an established author. The first author to speak was N.K. Jemisen, whose work I am woefully unfamiliar with (a matter I fully intend to rectify). As I was about to enter the room where her speech was taking place, I ran into yet another friend from last year, in fact the very first person I met at last year's conference, Tom Wingfeld (hi Tom!). We spent time catching up, and before I knew it, Ms. Jemisen's speech was over. From what I'm told, though, it was a wonderful and inspiring speech. (If you're somehow reading this, Ms. Jemisen, I promise I won't miss you speak next time!).
Saturday evening I was delighted to hear one of my most favorite thriller writers speak: Karin Slaughter. She was warm, funny and honest. Her speech talked mostly about her upbringing, speaking hilariously about the blessings and foibles of family and life as a writer. When she was finished, she spent time signing books and meeting with all of us. I'm not at all embarrassed to say that I was such a dork meeting her that I had to talk myself into acting like a normal human being, for fear of being seen as a complete lunatic. Lucky for me, Ms. Slaughter was so kind and welcoming. She signed two books for me and sat for a few photos, and even had a brief conversation that ended with me fangirling out! Good thing the cocktail hour was right after.
Sunday morning started with the keynote speech given by Min Jin Lee. She is a masterful author whose love for the English language is so apparent it's overwhelming. Her speech detailed her trials and tribulations of becoming a writer and being true to a calling, as well as personal challenges she's had along the way. Imbued with laughter and advice, her speech was nothing short of inspiring, resulting in a standing ovation. She, too, stayed after her speech to sign books and meet with the writers, and I again stood in line talking myself down, willing the tears of inspiration to back off just long enough for me to have my books signed. She was magnanimous and gracious, and I was so honored to meet her, and proud of myself for getting it together well enough to not look like a fool. It wasn't until I looked at what she had written inside my book that I truly lost it. She wrote "Kristine, We are family, xo MJL". Even now I'm starting to tear up.
And then, just as quickly as it started, it was all over. I remember crying last year as I said good bye to my new friends, and needing to just leave because if I didn't I would have been a complete mess. This year, I was just as sad, but was filled with so much hope and gratitude that I didn't fall apart. I'm convinced now that each year I attend will be filled with joy and that I will take something different from each experience. I'm looking forward to taking everything I've learned and applying it to pieces I've already written and everything I will write in the future. And I'm already looking forward to next year's conference as well.
Updates and Goals:
Get moving on some short stories that I've already written. I'm going to edit them and see if I can find a home for them with a literary magazine.
Continue working on The Things We Keep From Others. Work on that has stalled/taken a back seat in light of everything that I've learned and all the new ideas I have. Again, if you're interested in beta reading, please let me know right here!
Get back to a regular schedule on reading and reviewing short stories. Between the conference and then a few life-getting-in-the-way setbacks, I've really had to put that on the back burner for a few weeks. Check out my reviews over at my website, www.kristinedonahue.com/kristines-brf. If you're interested in haveing a story reviewed, head over to my pinned tweet or submit your story via my website!
Photo for this section courtesy of me! That's me meeting Min Jin Lee and cheesing like a total dork!
And now, I'm so happy to introduce this month's Peer Highlight! Read on!